https://www.grapevinecovandwarks.org/wp-content/uploads/Group-photo-by-Dom-Fleming-900.png
We are an engine for social change. We want everyone in Coventry and Warwickshire to join us in making people and communties stronger, fairer and more connected.
What follows is our strategy for 2023-25. A three-year plan to help people and communities use their untapped power to create better futures.
Grapevine's response to poverty
The cost of living crisis shows how unequal power worsens poverty and how weak democracy harms people's collective strength and resilience.
Grapevine's response will continue to strengthen local people and communities, building their power and ability to work together for change.
We will spark social action that challenges systems and shifts power back towards ordinary people.
Grapevine will:

Increase our efforts to reach the marginalised and least served.
Build on our convening role in the Poverty Alliance.
Build more community power and tackle the causes of inequality.
Grapevine's three strands of work
Strengthening People
We will continue to help people uncover their potential.
We will listen to them, trust their strength and skills, believe in their value.
We will help people open up their prospects and hold to account public services who are not meeting eligible needs.
Sparking Community
We will strengthen communities, bridge divides and ignite action. We will do this using community organising methods.
We'll involve business and public sectors so movements and their ecosystems become stronger.
Bring a sharper focus to the diversity of communities and people involved.
Build constituencies for change, as well as community-led initiatives.
Shifting Power
We will shift power so local people are able to influence the systems they live in.
Through this, communities will work more confidently together on what matters to them, co-designing and co-producing with those who currently hold power.
Connecting for Good and Healthy Communities Together will become transformative models.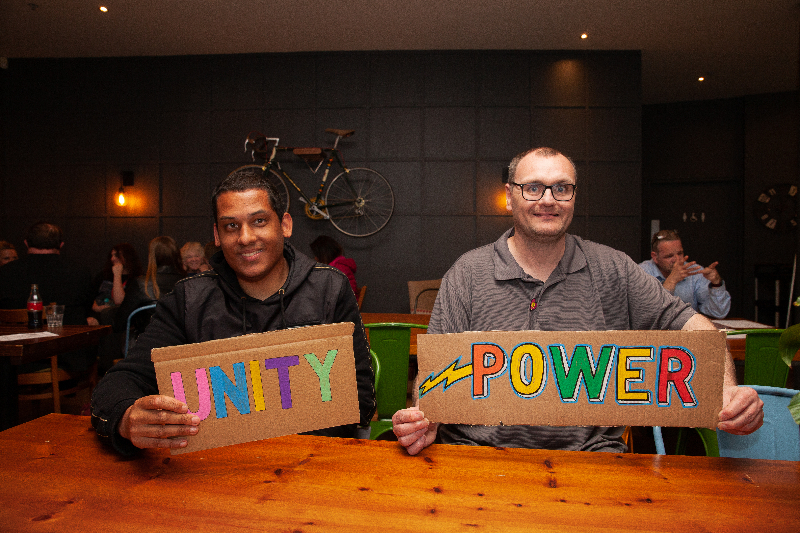 More reports
Early help
The Ignite programme saw Grapevine and Central England Law Centre embark on a five-year journey in partnership with Coventry City Council Children's Services and Citizen Housing (formerly Whitefriars), exploring how to redesign support from public sector services to help people earlier and build resilience in those least able to cope.
Click this link to read our final report: 'A Story of Activating Early Action.'
The business sector
The 'Rekindling lost connections' report from our local business and retailer summit in April 2021 details discussions on forging a different future founded on connection and belonging in Coventry and Warwickshire's city and town centres and local high streets.
The annual Cov Cares Awards, launched in 2023, were borne out of these discussions.
Public sector changemakers
'Un-lock down – public sector and community' reports what happened when we gathered Coventry and Warwickshire's public sector in November 2020 to talk about cementing new ways of working accelerated by the Covid-19 pandemic into everyday practice. Those core public sector changemakers later became a Thinkers and Doers Network.
Our pandemic journey
In summer 2020, towards the end of the first lockdown, we called 155 Coventry people together online to reflect and talk about what they wanted to happen next. We considered three things: Poverty and Inequality, Neighbourliness and Connections, and Our Power to Change.
The full report about those conversations is here: 'From community spirit to community power'.
Almost 100 people reconvened for the 'Where is the love?' summit the following November during the second, and arguably harder still, winter lockdown. We were all tired but our willingness to act to keep people together, no matter what was unwavering. We wanted to give it a strategic push.
If you don't see what you're looking for on this strategy and reports page, please drop us a line.