https://www.grapevinecovandwarks.org/wp-content/uploads/September-update.png
It's only the second week of September but so much has happened in the last two weeks, we couldn't wait to share some of what we've been up to (lots of other work has been going on too).
---
Thursday 29 August
The New Vibes / Fight for Your Right to Party crew hosted their very first inclusive club night at JJs Coventry. It was a great success, powered by a group who'd formed only weeks earlier around the idea that everyone should be able to enjoy a night out if they want to.
The event was an immersive experience with silent disco and DJ set by the New Vibes team. The venue is fully accessible throughout and further nights are in the pipeline. Watch this space and follow Fight for Your Right to Party on Facebook for the latest news.
Got an idea, skill or venue you'd like to share? Get in touch, get involved! New Vibes meet up every Monday at 5.30pm – info available on their Facebook page or by emailing sgreener@grapevinecovandwarks.org.
Pic credits: Alan Van Wijgerden (click to enlarge).
---
Friday 30 August
The next day saw the launch of #socialactionhubcovandwarks with a two-hour Walk and Talk through Coventry city centre. Over 70 people joined us (beating last year's August Walk and Talk) to walk, talk, share stories, listen to ideas, feel inspired and spark change.
Much, much more is in development with our Connecting for Good Cov, Self Care Social and Coventry Youth Activists projects – plus many other offshoots and movements all aiming to act against isolation and loneliness in our city and beyond.
Pic credits: John Whitmore Photography (click to enlarge).
---
Saturday 31 August
The first ever CYA Saturdays blog landed! Written by Coventry Youth Activists about their first Saturday night out together in Coventry, the blog aimed to share their experience with young people who may be worried about getting out and about. The CYA Saturdays campaign wants to change the statistic that one in three young disabled people spend less than an hour outside home on a Saturday.
With pics, videos and reviews of city centre venues in terms of welcome and accessibility, this blog is not to be missed!
---
Wednesday 4 September
Collaboration Station started at Drapers Bar and Kitchen, offering a range of tables generating different ideas to make Coventry a better, more connected city.
The informal evening brought dreamers, creatives, activists, doers, scientists, makers, entrepreneurs together to join the collaboration. A follow up is set to run on Wednesday 9 October, 5.30-7.30pm.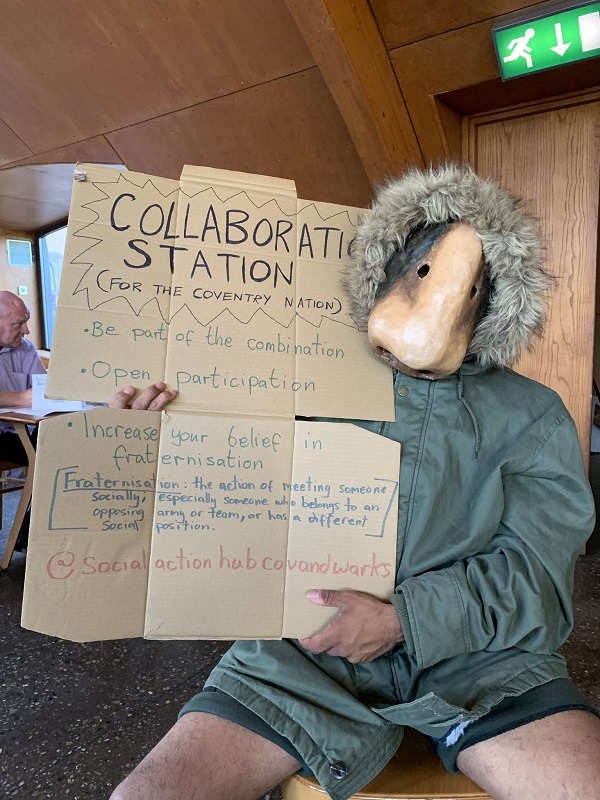 ---
Wednesday 4 – Friday 6 September
Grapevine took some time out of the office for three Team Days at a venue in west Coventry.
Time away allowed us to reconnect, share stories, experiences and expertise, and focus on our future. We got stuck in planning our Impact Event at Coventry University on 12 October to celebrate 25 years of Grapevine (look out for more details soon!) and even had fun with a few games. Camera-shy colleagues also had to endure some professional photos with John Whitmore Photography.
---
Tuesday 10 September
Deputy CEO Mel Smith (can you spot her below?) joined Coventry City of Culture Trust's first Culture Conversations morning at the Herbert Art Gallery and Museum alongside a whole host of public and professionals interested in the big opportunities before, during and after our year in 2021. New connections and conversations were made and started – watch this space!
Pic credit: Coventry City of Culture Trust.
Finally… please welcome new starter Danielle Breslin who joins us as a Journey Guide on the Accelerate programme, helping people into paid employment in North Warwickshire.