https://www.grapevinecovandwarks.org/wp-content/uploads/Atherstone-award.jpg
Members of Grapevine's Atherstone Speaking Up group have won an award for their contribution to the community in North Warwickshire.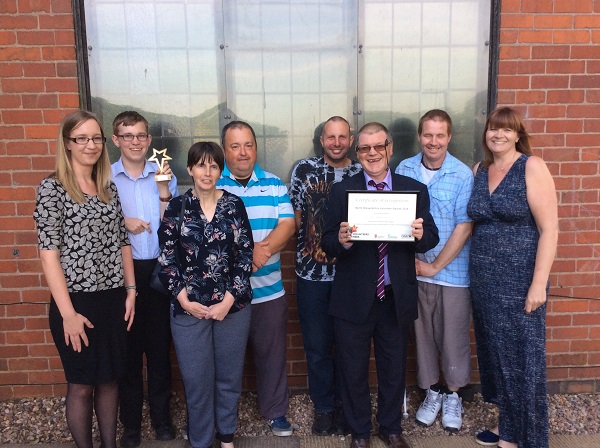 It was presented at the inaugural Volunteer Awards Evening 2018 held at Arley and St Michael's Community Centre in Gun Hill, Arley last Wednesday (6 June).
The ceremony was organised by Warwickshire Community and Voluntary Action (WCAVA), Warwickshire County Council and North Warwickshire Borough Council to celebrate and say thank you for the huge impact volunteers have on the lives of so many people living in the borough – all in their own time.
This impact includes improvements to the safety, wellbeing and quality of life of local communities.
Members of the Speaking Up group were delighted with their win – as you can see from the photograph!
The group is run by Grapevine on a monthly basis but is largely driven by its members who work on projects and campaigns all year round, even sitting at board level to have their say about big decisions on local services.
Atherstone Speaking Up is one of several similar groups for people with learning disabilities also taking place each month in Nuneaton, Rugby, Stratford and Leamington – spreading opportunities and influence far and wide across Warwickshire in partnership with Warwickshire County Council.
Amongst other things, the groups also get involved in the design of new public places so they are accessible to learning disabled people – such as the recently unveiled creative space at Nuneaton Library.
Other awards presented at the event included Long Service, Health and Wellbeing and Unsung Hero – both for individuals and groups. Four Special Recognition Awards were also handed out.
For more information on volunteering, visit WCAVA's website.