https://www.grapevinecovandwarks.org/wp-content/uploads/COVER-Changemaker-graduate-Emily_opt.jpg
We recently caught up with Connecting for Good Cov's Changemaker University graduates. The latest group graduated from the programme in March.
At the heart of our Connecting for Good Cov movement is the power of connecting with others to bring about the change we want to see. We created Changemaker University (CMU) to further build our community of Changemakers.
Changemakers commit to using what they learn to take action on isolation in their community. That might mean creating something new or supporting change that has already been sparked by Connecting for Good Cov.
First up is Emily. Emily joined after hearing about CMU from a friend who was involved in writing and delivering the sessions. Emily wanted to try something new so signed up to cohort three.
"I would say I had high expectations of the course, but I was not expecting to walk away from the experience feeling so deeply changed. The course facilitators created a collaborative environment of fun and friendship. They gave us plenty of opportunities to work together; thinking through big ideas whilst using new tools that open up our vision.

"Another major unexpected asset you get from doing CMU is the instant network you get of talented and courageous humans. The course teaches you to identify and call out for the super useful skills and contacts that others have that can help to grow and support the development of your movement."
Click here to read Emily's full account.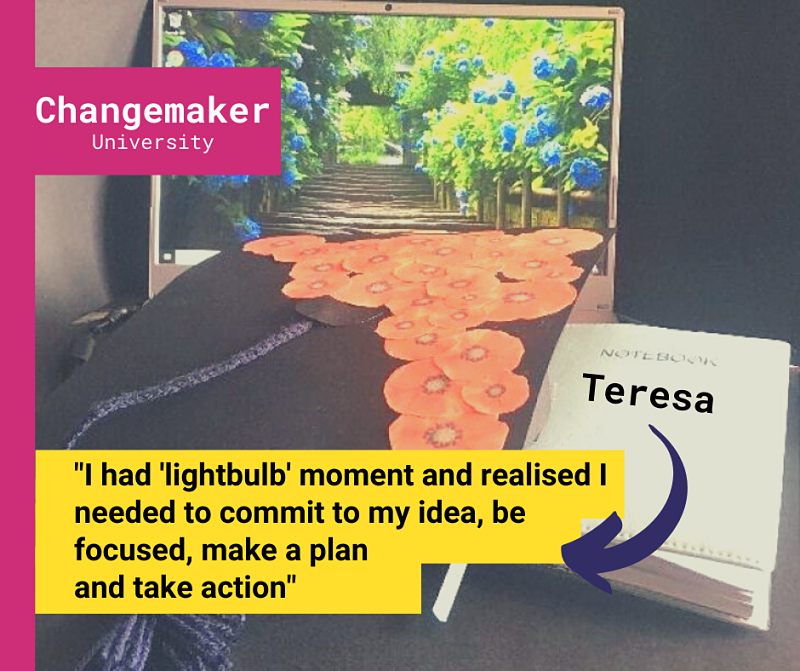 Teresa's personal journey through the pandemic has been tough. She heard about CMU from one of the Connecting for Good Cov community organisers and a fellow Changemaker.
"Chronic anxiety, fear, shielding, worsened depression and lots of other health issues kept me feeling like a prisoner in my own home at times. Especially in the first lockdown, when my only walks could be in the house or garden (I love walking). I felt like I should be doing something to help others but I felt totally helpless.
"To get the most out of the experience, I had to step outside my comfort zone. I feel I have grown in confidence and can now progress with the walking groups I want to develop, obviously when it is safe to do so. CMU showed me how great it is to have an idea heard and others support."
To read the rest of Teresa's Changemaker journey, click here.
Teresa's love of walking led her to become a core member of the Good for the Sole lockdown walking challenge. She'll also co-host a breakout room at tonight's Collaboration Station to further develop her own movement of like-minded people who can share a passion and call on one another for support in tough times.
Did you know?

A great way to stay up-to-date with Connecting for Good Cov's latest offerings of commUNITY, kindness and action is to sign up to their monthly newsletter.

Connecting for Good Cov is a movement against loneliness and isolation, sparked by Coventry people and Grapevine and funded by the National Lottery Community Fund.