https://www.grapevinecovandwarks.org/wp-content/uploads/900x510-Agatha.jpg
With so much going on this week as a result of government changes to Covid-19 rules and restrictions, we're sharing some snippets of what's happening here at Grapevine.
The team is getting back out into communities, at a pace that feels safe and comfortable for staff and the people we work alongside.
Our newest member Agatha, joined us a few weeks ago following a stint in Brussels working on policy recommendations! Among her favourite things are her family dog Hamish, crocheting and iced coffee.
She is working with Warwickshire Empowerment Service and championing their Made For Me accessibility campaign. She loves feeling like she is making a difference and having a physical disability herself, she's excited to get stuck in with helping us to discover diverse spaces that are accessible to all. Welcome Agatha!
On Monday evening, an intrepid group of wild swimmers ventured into Warwickshire for a river swim for the first time in a good long while. The gang, made up of weekly wild swim fan Mel (Grapevine's deputy CEO) and people she's met through Connecting for Good Cov, had a whale (or carp?) of a time cooling off in the heat and enjoying a post-swim snack together. Thanks to Amber for the pics!
Next up is C (identity protected) who loves music and is an extremely talented piano player. Paul from Teenvine Next Steps loves music and playing his guitar, so when C joined the project it didn't take long for the jam sessions to start! Music brings happiness to so many and it is so good to see young people progressing away from a Zoom call.
Click here to learn about the Teenvine Plus 'Summer of Fun', starting 2 August and free for ages 11-16 with Special Educational Needs and Disabilities in Coventry. We also released Curtis' story last week for World Youth Skills Day.
Over on Help and Connect in Coventry, project worker Andrea has helped Mollie produce this domestic abuse awareness poster. Mollie's other talents include baking and puzzling but domestic abuse is particularly close to her heart.
Mollie has a learning disability and Andrea is helping to connect her to opportunities and community in her local area. The exciting bit is that she now gets to work with Women's Aid ambassador Amaara to design and deliver a workshop for young women on domestic abuse.
Today we also spotted a photograph of Andrea and Paul's manager and our Director of Projects, Naomi speaking on stage about the power of community in raising youth mental health at the recent Big Tent Ideas Festival. To the left of the picture is 'O', a young person from Teenvine Plus who also spoke to the audience that day. Here are some reflections on the event from Coventry UK City of Culture 2021.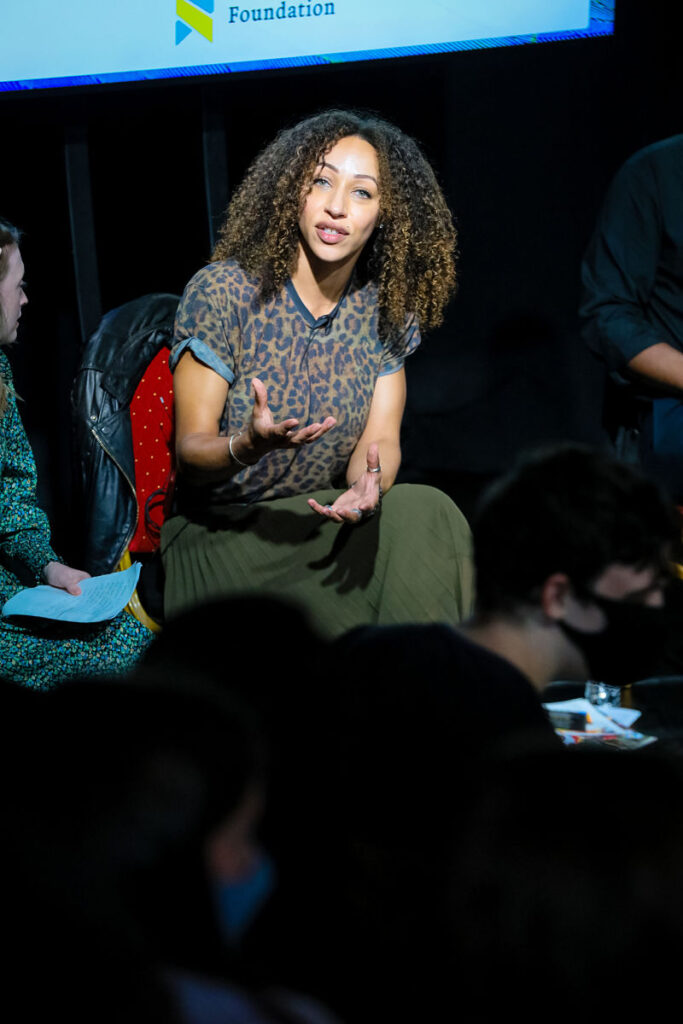 And finally, it's Collaboration Station tomorrow evening from 5.30-7pm! We've found hosting the monthly ideas night online to be hugely successful and we will keep it that way so more people can join us from home. This month's breakout rooms collaborating on community-led action against isolation include Cloudspotting/Resting Spaces and behind the scenes at Collaboration Station. Click here to register.