https://www.grapevinecovandwarks.org/wp-content/uploads/900-CfG-earth-heart-illustration.png
Earlier in September, Grapevine and a national community of changemakers called Larger Us teamed up to run an introductory workshop on having better conversations about climate change.
It's part of an exciting pilot programme for which Larger Us has partnered with four organisations – Grapevine, Unison, Parents for Future and Tearfund – to test out the climate conversation training among our members and supporters.
We are exploring the power of conversations to broaden support for climate action.
"We feel incredibly privileged to be working alongside people with so much collective experience and wisdom. We can't wait to get started!" (the team at Larger Us)
The pilot will run over the next three months.
Now we are shifting up a gear by bringing you the first two-hour online training on Monday 2 October where you will learn to:
Frame conversations so that they mean something to people in your community
Feel more confident to start conversations and keep them going
Remove some of the stresses that stop us having conversations in the first place
Prepare for conversation scenarios that are likely to arise in your day-to-day life
Find ways to connect to people with different interests and priorities.
If you missed our introductory session on 12 September, do not worry! Our community organiser Melissa Smith is here to catch you up and bring you on the journey with us.
We recorded the first session and Melissa is hosting a replay session online this evening (Tuesday 26 September) from 6:30pm to 7:30pm where she will share the 20-minute recording and answer any questions.
Watching the recording will help prepare you for the workshop on 2 October, running online from 6pm to 8pm.
If you can't make tonight's replay session, you can send Melissa an email or book yourself in for a 20-30 minute chat to receive your copy of the recording of the first session and learn more about next Monday's workshop.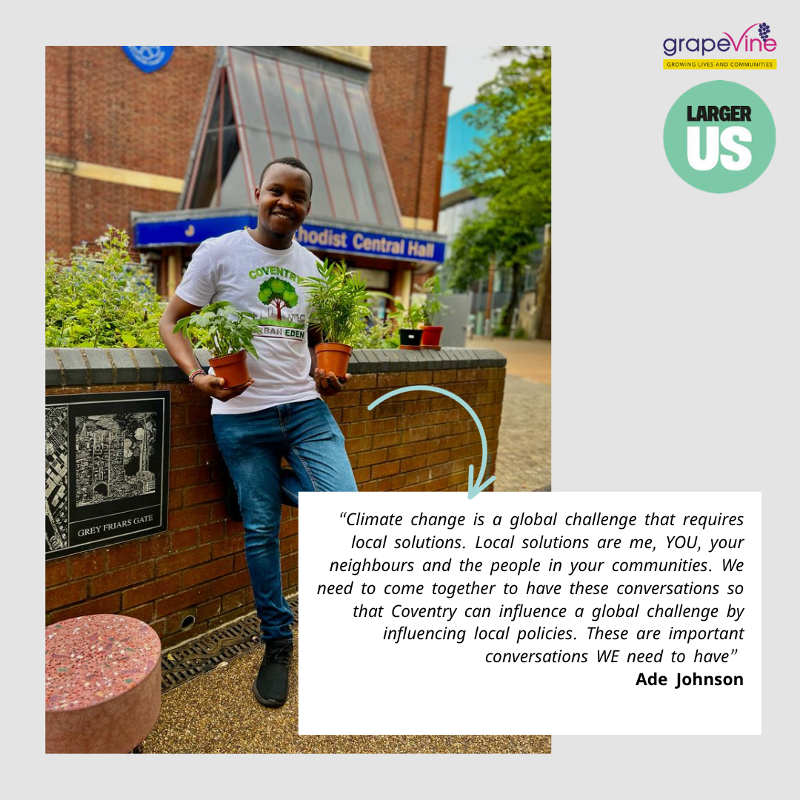 What we hope you will get from it:
We will be sharing with you a tried and tested tactic that has successfully worked for other campaigns.
So if you struggle to know how to start talking to people, worry about not having all the facts, or don't want to come across as preachy – this very practical training is for you!
Build your skills in areas such as active listening, telling your story and staying curious even when conversations get challenging
Live out your values – be the change you want to see in the world!
Have fun – test this programme out with us!
Ade attended our introductory session and said:
"Climate change is a global challenge that requires local solutions. Local solutions are me, YOU, your neighbours and the people in your communities. We need to come together to have these conversations so that Coventry can influence a global challenge and influence policies. These are important conversations we need to have."
We are sharing this amazing opportunity with our Coventry and Warwickshire networks.
Places are limited so please get in touch as soon as possible.