https://www.grapevinecovandwarks.org/wp-content/uploads/900-Melissa-Smith-CYA-London-action.png
We're thrilled to announce that our Coventry Youth Activists (CYA) are shortlisted for a special national campaigners award which celebrates small campaign groups taking on much bigger organisations and challenging vested power.
The David and Goliath Award winner will be revealed at a hybrid full awards ceremony being live streamed from a news room in London on 19 May – which activists Joey and Amanda plus Molly from Grapevine hope to attend in person!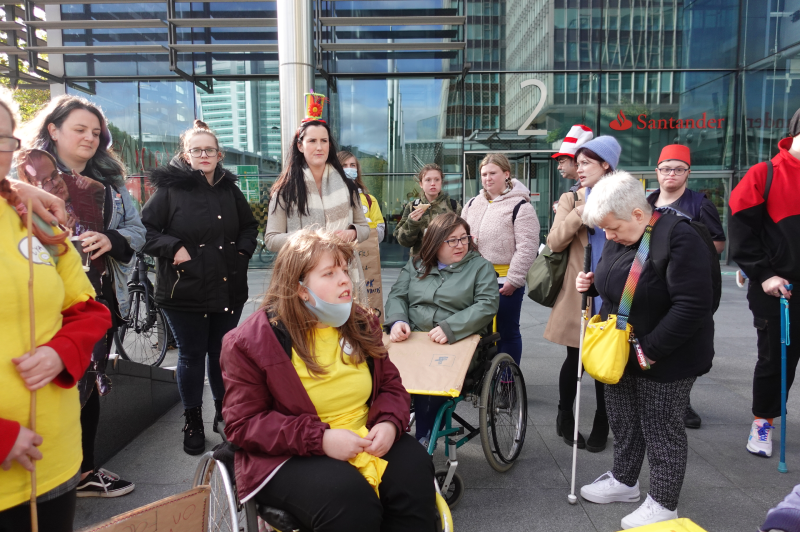 The annual SMK Campaigners Awards bring the campaign community together to champion campaigning, demonstrate its value and acknowledge success. There are a number of different categories including Best Consumer Campaign, Best Use of Law and Campaigner of the Year.
CYA's successful shortlisting comes off the back of more than 12 months of campaigning to challenge and change Facebook's proctocols in dealing with hate speech on the platform targeted specifically at disabled people. The ceremony is another big opportunity to raise up the aims of #FacebookHasNoStandards on a national stage and gather further momentum and allies around the campaign.
Joey Mander from CYA said: It's so exciting and an honour to be shortlisted, especially as this category, the David and Goliath Award, suits CYA so well."
CYA took direct action last October when Facebook failed to respond to their calls for change, taking a coach and their demands directly to their offices in London for a day-long protest, stories, Mad Hatters' Tea Party performance and attempts to deliver tea, biscuits and their pleas to take online disability hate and ableism as seriously as the damage it causes.
Last week the group returned to the capital to meet MP, and CYA ally, Taiwo Owatemi at the Houses Of Parliament to hear MPs debate the forthcoming Online Safety Bill in the House of Commons.
An awards watch party will take place at The Belgrade Theatre in Coventry city centre where members of CYA and their supporters will gather to discover the winner together as the ceremony is streamed live from 4:00pm on Thursday 19 May.
Look out for more awards news soon and also details of CYA's next steps in their fight against hate and the system that allows it.
You can follow and support CYA's campaign on Twitter and read about the award nomination in more detail by clicking this link.