https://www.grapevinecovandwarks.org/wp-content/uploads/900-Gemma-Collab-Station.png
Today Gemma Musgreaves, Connecting for Good Cov community organiser, presents to a national audience on what it means to bring participation to the places, spaces and systems we work in.
The RSA (Royal Society for Arts, Manufactures and Commerce) event is called 'Living Change: People, Place and Participation' – a hybrid event held simultaneously in London and online.
Zooming in from Coventry, Gemma will talk about Grapevine's approach to participation (we don't do anything without it!) and the importance of enabling communities to lead and develop their own priorities.
"It's bringing people on the journey alongside you. We share training and learning opportunities and invite people to reflect and design our future with us. We are open as a team that we don't have the answers, that we don't always get it right and we can't do it alone."
Connecting for Good Cov is an ever-developing movement against disconnection and isolation for anyone who lives, works or plays here. Our organisers ask the community, "What do you care about and what are you willing to do about it?"
Understanding what people are passionate about tells us how they want to participate and what they will dedicate their time to.
We start with listening to understand and acknowledge everybody as an expert in their own life in order to begin to explore their ideas and solutions to concerns. At the end of the day, power shared with the community is power built for us all.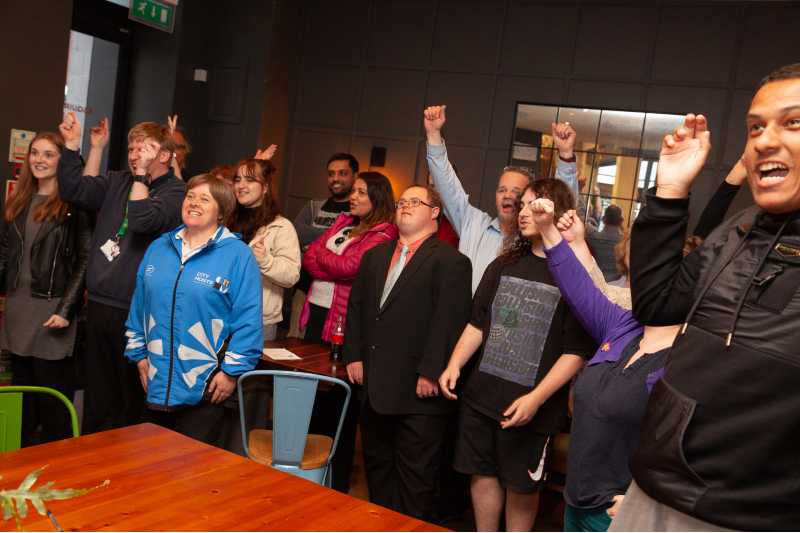 If you haven't yet heard of it, one of our monthly touchpoints is an event called Collaboration Station. We take the lead on this alongside a group of community members. At each event attendees choose to join one of several tables focused on developing an idea for change in Coventry.
Gemma's presentation today takes the audience on a whistlestop tour of isolation, collaboration and connection, inviting them to understand how to build ways of working where participation is the expected norm and not an add on.
We say it's about being clear on your collective aim – in this case fighting isolation and the system that allows it – and learning that the way people participate may change and shift but it's always getting you closer to the goal.
Explore our blog for more on #ConnectingForGoodCov, funded by The National Lottery Community Fund. Including our series on Collaboration Station – when and where it happens and how you can get involved personally or professionally.*
Today's event supports the RSA's Living Change Approach which is about uniting people and ideas to understand the challenges of our time. To effectively realise lasting change and deliver impact at scale. Learn more by clicking this link.
*Professionals are welcomed if they leave their lanyard and job title off for the evening.