https://www.grapevinecovandwarks.org/wp-content/uploads/Blog-cover-Sian-takes-a-pic.jpg
Last night we partied the evening away at Coventry's inaugural Cov Cares Awards at Coventry University's Square One Venue.
The first event of its kind to celebrate community-focused city businesses, organisations and individuals going the extra mile to bring connection and belonging to local people.
Ten categories, three finalists in each. All of them good enough to win for their consistent commitment to creating spaces where we meet, connect and spend time together. All the more crucial we realise now after losing them in lockdown not so long ago.
Here we share a few photographs by local photographer and friend Mandip Seehra of last night's amazing ceremony, crafted by a partnership of businesses and organisations in Coventry with a future network of connection and belonging in mind. Along with a few winners' stories.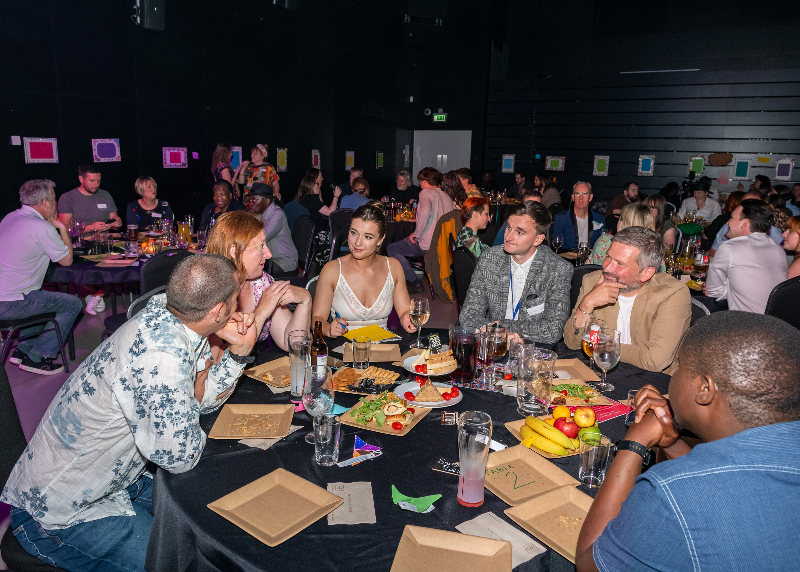 More Than Just A Cafe or Restaurant award winner: Coffee Tots

"Coffee Tots in Coventry city centre is so much more than a support group for parents of preschool babies and children. It is a safe place. Where little ones play and parents feel connected to one another and their shared experiences – and to staff who encourage and care without judgement. There are simply too many wonderful stories to share about this place – a "second family", support during mental illness, a chance to socialise and a source of confidence to leave the house. Coffee Tots' new home at The Wave promises to continue its invaluable ripple effect among city families."
Finalist Sophie Hyam, owner of Culinary Bites, said:

"So much talent in the room. The start of a great event – running for years to come I'm sure. Sian from the Grapevine Cov and Warks team wonderfully summed up the night saying we are all winners."
Hannah Daniels, co-owner of Revolution Training, winner of Community Champion (Business) Award said:

"We were asked a question tonight, where in Coventry feels like home? Straight away my reply was 'Revolution'. You all make work so easy, you make it not feel like work but a place of comfort, security, happiness, fun. You have created an unbelievable sense of community. You make it so easy to love what we do. I love being at work, and being able to help you all in any way we can. It means so much."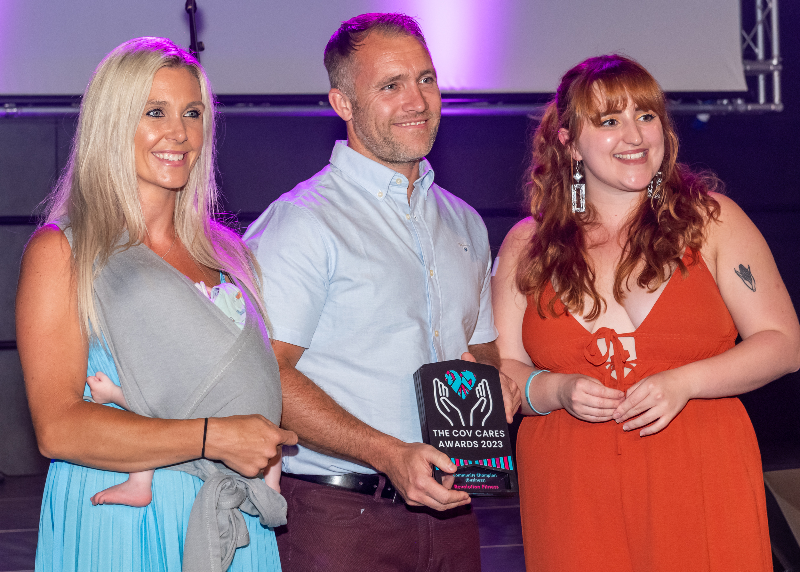 Community Champion (for a business) award winner: Revolution Training

"Revolution Training is based on the border of Willenhall and Binley where owners Steve and Hannah have nurtured a unique "Revs family" of people at all fitness levels who feel cared about both in and out of class. In this gym, everyone is seen and it is through this process of connection and belonging that Revs is challenging the notion of what gym membership means. Learning people's names, checking up on absentees, keeping people motivated, hosting social events, holding free online classes in the pandemic, boosting physical and mental wellbeing – this is how you build a business that champions community first."
Programme Director, Michelle McGinty, said:

"It was a privilege to be invited to attend the Cov Cares Awards Ceremony this evening. Such an uplifting experience, celebrating the many businesses, organisations, places and people that go above and beyond on a daily basis for Coventry's residents and communities.

"Once again I was reminded why I am proud to be a Cov Kid. Coventry really does care."
Si Chun Lam, Grapevine trustee and Strategic Leader, said:

"As we grapple with the socioeconomic challenges of our age, whether that's building inclusive economic growth in which everyone has a stake; reinventing the role of city centres and high streets in the age of internet shopping; or rebuilding civic trust and strengthening our democracy, none of us have all the answers.

"But, surely the kind of 'space' created through events like today's is part of the way in which we can empower people in ways that spark ideas that can help people come together to address our common challenges."
We have many more finalists' and winners' stories to share so please look out for these on our website and social media.
Here is the list of winners:
More Than Just A Bank: Coventry Building Society
More Than Just A Bar or Nightclub: Knights Bar
More Than Just A Shop: Cogs of Coventry
More Than Just A Cafe or Restaurant: Coffee Tots
More Than Just A Venue or Community Space: Sitting Rooms of Culture
Creative Champion Award: Art Riot Collective
Community Champion (Business): Revolution Training
Community Champion (Individual): Caroline Taylor, HOPE Community Projects
More Than Just An Employer or Employee: Becky Ball, Change Grow Live
Warm Welcome Award: Bardesley Youth Project
And just before we go (please excuse the grainy screenshot below), you can watch our Connecting For Good Cov community organiser Sian Lewis on BBC Midlands Today talking about the awards here – plus interviews with Coffee Tots, Kitchen 126 and Joy's Cafe, our three finalists for the More Than Just A Cafe award.
A final word from Grapevine CEO Clare Wightman

"A special shout out to Paul Jones from Visit Coventry, John Kiely from McDonald's, to Coventry BID, Coventry Building Society, PET-Xi Training and anyone I've missed who have worked with us on creating these awards.

"We asked people to submit stories of connection and belonging. Of times when they felt seen and heard, and cared for. We wanted stories that went beyond the expected, and showed the absolute power of having places, spaces, and people that truly care about Coventry's people.

"We received 756 nominations, 431 of which included a story. Out of the 167 places and people nominated, our panel of community judges from across the city picked you all as the stories that truly stood out.

"That truly said connection and belonging."