https://www.grapevinecovandwarks.org/wp-content/uploads/900-Volunteers-Cov-Cares-Awards.png
Coventry's inaugural Cov Cares Awards launch today to shine a light on community-focused city businesses that are bringing a sense of belonging, connection and smiles to customers every day.
Residents and visitors are invited to nominate their favourite local business or employee from a choice of ten categories, including 'More Than Just a Bar or Nightclub', 'More Than Just a Cafe or Restaurant', 'More Than Just a Shop' and 'Community Champion'.
'More Than' denotes a consistent focus on caring for people and the wider community – whether that means getting to know regular customers, offering a warm welcome to those in need, noticing when someone is struggling or designing spaces that help people overcome feelings of overwhelm or worry.
Businesses boost communities and communities boost businesses. Making Coventry a destination for connection is something that online retailers aren't able to offer.
Developed through a partnership between local charity Grapevine, Visit Coventry, Coventry Business Improvement District (BID), Coventry Building Society, McDonald's and PET-Xi Training, winners will be announced at a special awards evening at Coventry University's Square One entertainment venue in June.
The 'Cov Cares' idea began as the UK emerged from the third COVID-19 lockdown in April 2021 when Grapevine convened an online summit for 65 local business owners, sector reps and supporters to plan a different, kinder future where business played a fundamental role in building a sense of belonging – rekindling lost connections on our city streets.
Pledges made at that time included a way to recognise businesses delivering sociability in equal measure to their products or services.
Anyone can nominate a business or individual for an award by visiting www.covcaresawards.co.uk.
Deadline for nominations is Monday 15 May.
Award winners will be announced at the ceremony on Wednesday 21 June.
Clare Wightman, Grapevine CEO, said: "Places and spaces where we can connect with friends, family, acquaintances and strangers are essential to feelings of belonging and well-being.

"Through our anti-isolation movement, Connecting for Good Cov, we see the direct impact that connection and purpose have on people's lives and potential.

"The businesses we already work with put community at the heart of what they do. We are sure there are many more places, spaces and individuals doing the same thing! Please help us celebrate them by nominating your favourite."
Paul Jones, managing director of Visit Coventry, said: "For many reasons, loneliness and social isolation are very real issues for a growing number of people across the country, and Coventry is no exception.
"The Covid pandemic meant that more of us experienced feelings of isolation during lockdowns, but that has also resulted in us being more attuned and empathetic when we recognise it in others.
"We have an incredible community of businesses and every day many go above and beyond in their care for local people.
"That great work often goes unrecognised, so we are proud to be supporting the inaugural Cov Cares Awards to shine a spotlight on the brilliant work that businesses, and their employees, do in our city."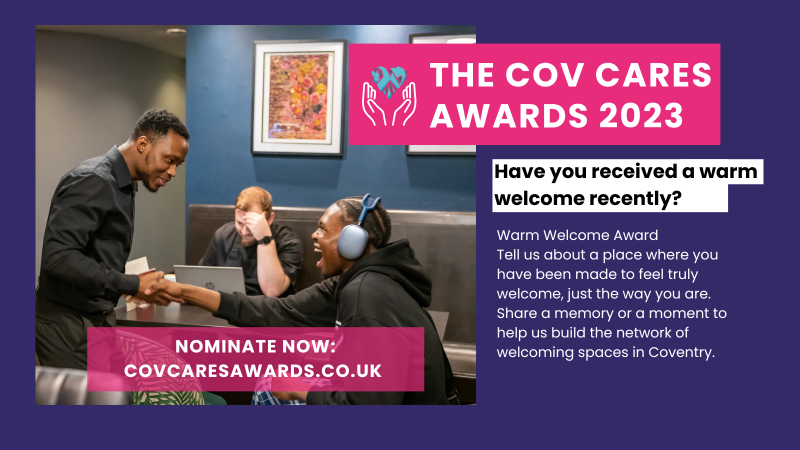 Lyndsay Smith, from Coventry BID, said: "We are thrilled to be working on a project that will celebrate the intangible but differentiating elements of what makes great customer service.
"It will be a special moment in time to recognise those who make such an effort to positively influence visitors' experiences."
Find out more

Read Grapevine's 'Rekindling Lost Connections' summit report by clicking this link and check out our other reports here.

Visit the Connecting For Good Cov website for more about our work fighting isolation in Coventry and reforming systems that allow it.