https://www.grapevinecovandwarks.org/wp-content/uploads/GV-strategy-comp-thumb-1.jpg
Poverty and austerity need a stronger response. But local government resources are declining and service models are trying to adjust. Our social fabric needs to catch up.
Against this backdrop we launched our strategy in the summer of 2019. Over three years we wanted to continue our 1-1 work strengthening people, but because of the success of our movement building work, and because it's so needed, we put greater focus on sparking action and shifting power at community and service levels. All our work is people led, with us in the background connecting, building, priming and prompting.
Scroll down for in-depth reports on how we've been doing this during the Covid pandemic. Look out for an updated strategy in Spring 2022.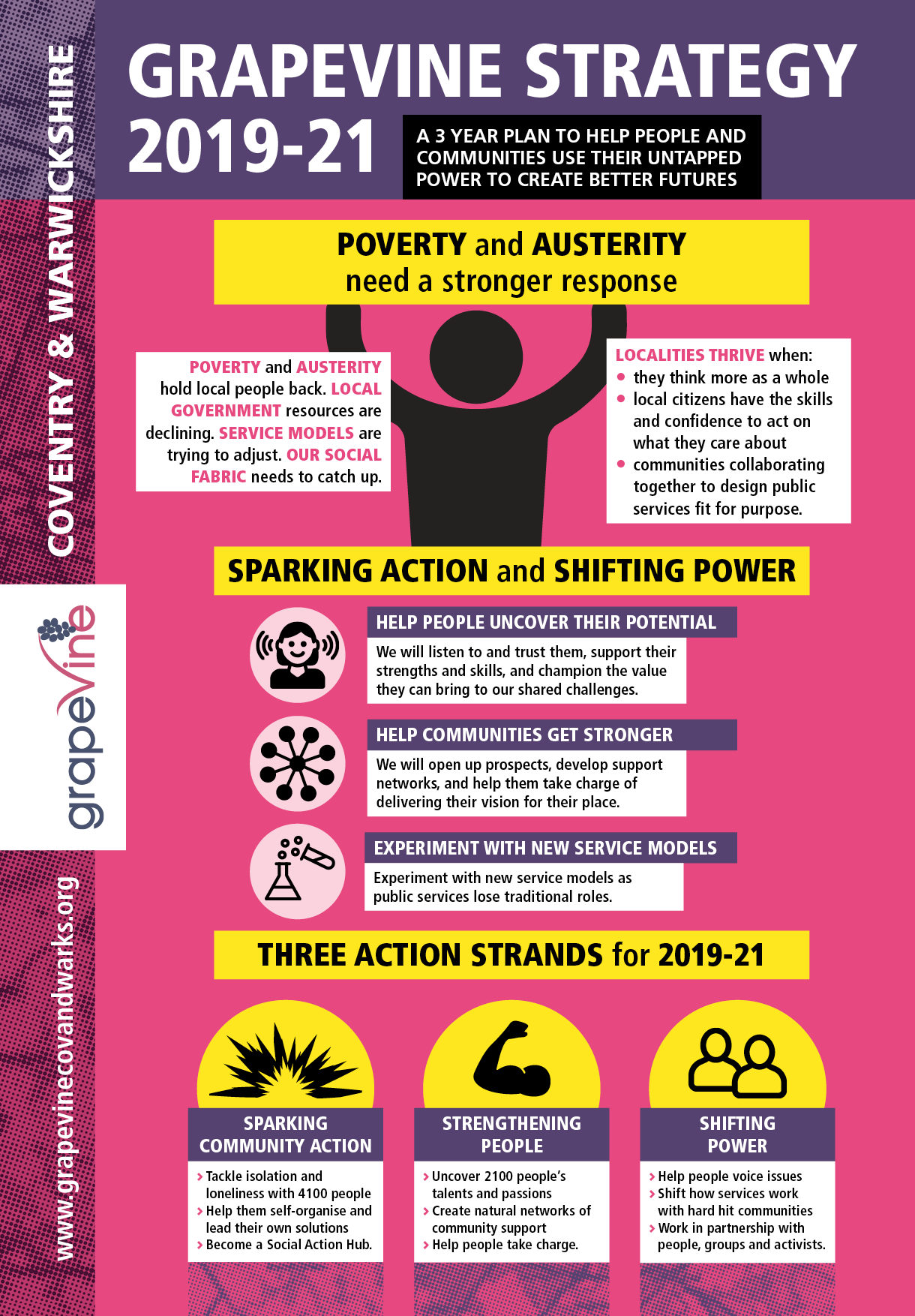 Reports
Click the first image below to launch our 'Rekindling lost connections' report from our local business and retailer summit, April 2021.
Around 65 business owners, sector reps and supporters joined us online to talk about forging a different future founded on connection and belonging in Coventry and Warwickshire's city and town centres and local high streets. Where community boosts recovery and recovery boosts community and people, communities and businesses use their untapped power to create better futures.
Click the second report image to read 'Un-lock down – public sector and community' when, in November 2020, we gathered Coventry and Warwickshire's public sector in a Zoom room to spark discussion, talk optimism and make a commitment to action for our future.
We reconvened a core group of those professionals a month later to talk action on cementing the new ways of working accelerated by the pandemic into everyday practice and later galvanised those core public sector changemakers into a monthly Thinkers and Doers Network.
Towards the end of the first lockdown in 2020, we called Coventry people together online to reflect and talk about what they wanted to happen next. People worried that the strong sense of community spirit was wavering. They considered three things: Poverty and Inequality, Neighbourliness and Connections, and Our Power to Change.
Click this final image for a full report on our 'From community spirit to community power' summit attended by 155 people in July 2020.
We did it again with almost 100 people with the 'Where is the love?' summit in November during the second 2020 lockdown. We were all tired then but recognised that hope and optimism needed a strategic push. We wanted to find the love and we did – our willingness to act to keep people together, no matter what. Watch this space for further strategic reports.